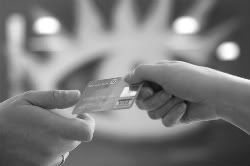 You know what's so amazing about grace? What's truly amazing about grace is that it's given before. Before I fix my hair, before I get the right clothes, before I learn the right jargon. Before. Eh, maybe Paul says it a bit better than I can in Romans 5:8,

"but God shows His love for us in that while we were still sinners, Christ died for us."

Now you catch my drift? We've been given grace before we even have a chance to clean ourselves up to picture perfection for God. He doesn't give us that chance...and praise God that He doesn't!
I've been reading this book called The Ragamuffin Gospel by Brennan Manning. It's a wonderful book on God's grace and I recommend it to anyone who has a tough time accepting it. It's not easy to accept God's mercy...not when you really consider what that acceptance implies. It implies that we have come to the end of ourselves, have admitted our ineptitude, and have given up on the ridiculous notion that we could ever save ourselves. One problem with that...PRIDE. Or more namely, SIN. It's hard for me, and I can imagine nearly every Christian, to forsake the idea of earning salvation, working for God's grace. But that doesn't work, God decreed so Himself,

"For by works of the law, no human being will be justified in His sight..."

Manning quotes a man by the name Paul Tillich and his words have stuck in my head since I read them, "Do not seek for anything, do not perform anything, do not intend anything. Simply accept the fact that you are accepted."
Despite my sin, I am accepted. Despite my eighteen year old raging hormones, I am accepted. Despite my overwhelming capacity of doubt and skepticism, I am accepted. Despite my insane habit of placing God on the back burner, I am accepted. There's nothing I can find in myself, nothing I can do, and nothing I can intend to do to earn God's acceptance. And it's too late anyway. There's nothing you can find in yourself, nothing you can do, and nothing you can intend to do to earn God's acceptance. Besides, it's too late for you too. He's beat us to the punch, He's made the first move. Before we could inevitably screw it all up, God

"chose us in Him before the foundation of the world, that we should be holy and blameless before Him."

Feel free to join in with me in a resounding "Praise God!"