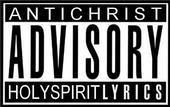 Okay
, I know..random post. Even more random since I haven't written in months. It sounds even more dramatic when I say I haven't written since last year! Frankly, once you get out of the habit, it's really hard to get back into it. That's been the story of my life lately actually. Eh, but that's another post for another time. I decided to write about something that was a little controversial instead: Christian, or dare I say, Holy Hip Hop. Not to say it was completely random. Good old Piper made me think about it
here
.
I am a strong proponent of Holy Hip Hop, Christian rap, or whatever we're calling it these days. I know many, including my dad, who are a little skeptical about it. I guess those types have reasonable doubt to assume such things. Considering that rap doesn't have a great rap (definitely no pun intended, I'm not that lame..), I can see why its hard for people to see how something so sinful can have anything Christian or holy about it. But you know, one would have to use that line of reason in themselves. Weren't you, weren't we something so sinful once? How on earth were we made to be Christian or holy? I think we're billions of times worse than the most crude and disgusting rap song ever created. But if Christ's blood can wash and clean people as sinful as us, I'm sure He can do it to something as insignificant as rap.
I just wanted to help present and lay the case for holy hip hop because I truly believe that it is a major force behind the new resurgence of interest in Reformed theology among youth. Here is a couple of my favorite material, directly from those "no good rapper dudes":
"We're elected and chosen, predestined just to behold Him, now I've got joy from my shoulders on down to my Achilles'. I don't need money forever, dibs of eternal inheritance, spiritual rags to riches like Beverly Hillbillies."

- Lecrae, "The Truth"




"This is a call to introspection, some interjection into men's perspect since God calls them into question all their mindsets and behavioral patterns, "I gave you a pattern" He says, "But I'm afraid you're in Adam." So you're made in a manner that we called depraved in this grammar. It's just a big word to describe that you enslaved and you cannot find the power to even do the good you desire..."

- Ambassador, "Free"
I could quote so many more theologically rich lyrics, but we'd be here all day. All I'm saying, is don't knock it until you try it. Yes, I know that music tends to be a cultural thing so if it's not what you're into, it's all good. I just want to show the way God is awesomely using great men like Lecrae, Ambassador, Cross Movement, 116 Clique, and countless others, who follow other great men of this movement such as John Piper, John Mac, R.C. Sproul, Sovereign Grace and other men and ministries, to glorify His name through their words. Praise God who can turn the lowest things, even us, into vessels that He graciously uses for His glory.
P.S. - I thought it'd also be cool to show you how these guys show respect for men like Piper and MacArthur.
"I got a back pack full of tracks plus I keep a Johnny Mac so we can pound it out"

- Lecrae, "Jesus Muzik" referring to a MacArthur bible.




"Everybody listen up, don't just like us. Let Jesus Christ switch your life up, the mic's a tool that we use solo to end cyphers, to bring glory to God like John Piper..." - Cross Movement (Ambassador), "Clap Your Hands"
If only we all glorified God like John Piper and like these holy hip hoppers...what a cloud of witnesses we would be!