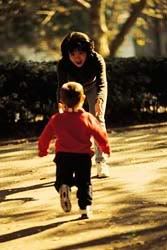 Aren't you glad that God is a sovereign God, a Father who lovingly holds on to us even when we desperately pull away? How often do we thank Him for His promise that none who comes to Him will ever be cast out,
that "
He
who
began
a good work in you will bring it to completion at t
he
day of Jesus Christ"?
Have you ever considered the situation we would be in if salvation was completely and solely dependent on our own faith? I would have fallen a long time ago and so would you. Paul promised in his first letter to Timothy that even
"if we are faithless, He remains faithful."
Praise God! It's not up to me, it's not up to you. We are faithfully held in His sovereign arms, never to fall away.
Father, how often we become self-dependent in our lives. We seek to be independent, to make You love us through our actions. Yes, faith without works is dead, but without faith, our deeds are worthless. You call them filthy rags in Your sight. Help us to love You, to desire You. Only the children will see the kingdom of Heaven, blessed are the pure in heart for they shall see You. Make us children in our dependence, grant us innocent faith in You. The sacrifice You acknowledge is a broken and contrite heart. Break us, humble us, that we may submit the lordship of our lives to You and You alone. Forgive us where we've turned our hearts from You. Turn them back to You. Thank You Father for Your sovereignty, Your grace, Your love, Your mercy, and even Your justice. Thank You that we are not in control, but You are in control; for what disarray and madness would be prevalent had we been left to ourselves! Keep us Lord where we should always be, knelt before the cross of Your Son Jesus Christ. Thank You for His sacrifice. Your word says that because of His righteousness, Your servant, made many to be accounted righteous, because He poured out His soul to death, and was numbered with the transgressors. Make us to be holy as Your are holy...show us what it means to be holy as You are holy. Thank You God for Your wonderful salvation through Your beautiful Son, Jesus Christ. Amen.
It's great to know that our Father in heaven is Lord over all. We should praise Him each day for His sovereignty in our salvation, that even when we are faithless, He remains faithful. On Christ the solid rock I stand, all other ground is sinking sand. All other ground, including myself, including yourself, is sinking sand.