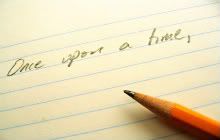 In the back of my mind, even without a hint of detection, there seems to be a reoccurring theme. I hear past comments made to me like "hey, you look like you should write a book." I mean, what does a person who looks like they should write a book look like? I don't have a very pleasant picture in mind.

So I sit and stare at words and none of them seem to desire to form themselves into a bookly context so I suppose I'm in that dreaded stalemate...writer's block. But since I don't have anything intellectual to talk about, there are some updates worth mentioning:


1) I've recently discovered that I'm a tad tight with my currency...I say thrifty, mom says it's being cheap.

2) This week I read perhaps two of the most convicting books about indwelling sin. Totally recommend them if you don't mind feeling like a jerk:

The Enemy Within

by Kris Lundgaard and

The Respectable Sins

by Jerry Bridges.

3) Tomorrow is my driver's test, Lord help me.

4) I've reached new heights in my domestic skills. I can now officially prepare hot dogs...and as pathetic as that sounds, it is yet another breakthrough for yours truly.

I think that's about it. Back to pangs of writing. Ah the woes of a creative spirit...