"What is your servant, that you should show regard for a dead dog such as I?"

- 2 Sam. 9:8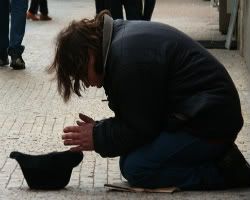 Have you ever read the story of David and Mephibosheth? I've come to see that it isn't the most popular Old Testament story. I mean there's stories of rivers parting, wars galore, fish swallowing humans, how can this small and seemingly insignificant story compare? To be honest, this insignificant story has changed my complete outlook on how I relate to God. Yep, it did that much.

For a little overview, the story starts with David seeking relatives of Saul. Because of his previous covenant made with Johnathan, David desires to show kindness for Johnathan's namesake. After some searching, it is revealed that there is one, a son of Johnathan, who is crippled in both legs. When summoned, Mephibosheth lies at David's feet wondering why this great king would regard someone as lowly as himself. Instead on nurturing Mephibosheth ideas, David gives him everything his grandfather Saul owned. Not only did he give Mephibosheth basically everything, but he proclaimed that Mephibosheth would eat at his table always.

This could have been just a historical account that was recorded, but as someone who tries to draw comparisons into everything observable, I did so with this account as well. This story, this beautiful record of grace and mercy, is somewhat in my opinion symbolic of the grace and mercy God Himself bestows on sinful, crippled dogs such as ourselves. First, just as David seeks out Mephibosheth, God seeks out us. Romans 3:11 plainly says,

"No one seeks after God."

Instead, Jesus says it clear as crystal in John 6:44,

"No one can come to Me unless the Father who sent Me draws him."

Just as Mephibosheth wondered, every single day I can't help but wonder why God would show loving regard to someone like myself. Paul describes my thoughts exactly,

"

For while we were still weak, at the right time Christ died for the ungodly.

For one will scarcely die for a righteous person—though perhaps for a good person one would dare even to die—

but God shows his love for us in that while we were still sinners, Christ died for us."

(Rom.5:6-8)

After lying at Christ's feet, not only does He give us new life, but He gives us eternal life, an eternal invitation at His table. And lastly, as crippled beggars, we won't walk with pride into His presence. Instead, He carries us. He's always carried us. And frankly, I wouldn't want to be anywhere else except in the hole-stricken hands of my Savior.

Great story huh? I told you so.