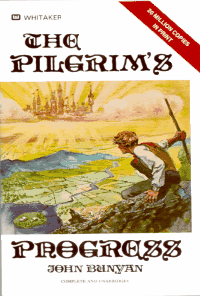 Other than the Bible, I personally and vehemently believe that every Christian should read this allegoric tale by John Bunyan. It is a timeless story that completely encompasses the Christian life in it's entirety. Bunyan so beautifully describes the trials and triumphs each Christian will likely experience on their individual pilgrimages to the Celestial City.

The story follows a man name Graceless who lives in the City of Destruction. Graceless spends all of his time reading a book that gives him a great burden upon his back that will not go away. He despairs and worries to the point of sickness how to be relieved from his burden, his sin. Graceless then meets Evangelist who points him to the direction of deliverance and he, like every other Christian, forsakes all, wife and children even, to be saved. Subsequently named Christian, the rest of the story follows him through unforeseen trials such as the Slough of Despond and the Valley of the Shadow of Death, and through great times of Christian fellowship with friends and fellow pilgrims Faithful and Hopeful, documenting their journey all the way to the desired city of paradise.

The book also has a less famous second part that follows the pilgrimage of Christian's wife, Christiana, their sons and maiden, Mercy. While just as allegoric as the first, I personally find the second part does a better job in showing that the Christian life is not an individual effort, but something that requires help, fellowship, and edification from other believers. While Christian had the company of Faithful, then Hopeful, Christiana is blessed with the fellowship of her entire family. So, while the second part is less likely, it is a more graceful picture of what the Christian life should be.

I once read that after the Bible, Pilgrim's Progress was the greatest selling book. Though this is probably not accurate anymore, I still understand while it was at one point. In a way, Bunyan humanizes the Christian life and represents it as the adventure it truly is. I recommend it to every Christian and every non-believer who desires to know what this calling is. Christ commanded us to count the cost before we begin the journey. Pilgrim's Progress, I believe, is a great way to evaluate that cost.