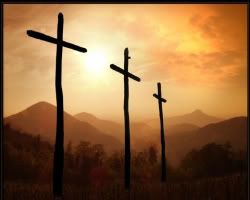 So, my best friend recently gave me a book to read called Faces About the Cross by Clovis G. Chappell. I'm not terribly far in it yet but it's been a wonderful read so far. Chappell takes the stories of minor characters that played a role during the crucifixion and gives insight on each one individually. Yesterday I read the chapter entitled The Great Outlaw and if ever there was a time where I saw myself, my true self, it was there.

As we all very well know, Christ did not die alone, but was crucified alongside two others. Two robbers specifically. Both were filthy criminals absolutely deserving the punishment handed to them. Both men were in the same situation, heard the same crowd, observed the same Man, but came away with two entirely different attitudes toward that Man.

Two others, who were criminals, were led away to be put to death with Him. And when they came to the place that is called The Skull, there they crucified Him, and the criminals, one on His right and one on His left. And Jesus said, "Father, forgive them, for they know not what they do." And they cast lots to divide His garments. And the people stood by, watching, but the rulers scoffed at Him, saying, "He saved others; let Him save Himself, if He is the Christ of God, His Chosen One!" The soldiers also mocked Him, coming up and offering Him sour wine and saying, "If You are the King of the Jews, save Yourself!" There was also an inscription over Him, "This is the King of the Jews." - Luke 23:32-38

Let us picture ourselves there. We join the crowd and march with them toward Calvary to view the execution of three men. We watch as they march up the hill with their dreaded crosses hoisted upon their backs. When they finally make it to their doomed destination, they must lay down their cross, lie upon it, and be horrifically tattooed to it by nails. Can't you hear the shrieking cries of the men? Their oaths and curses thunder over the sounds of the crowd. One, however, does not curse but rather, He...prays. And it isn't that He is praying for relief like the other two. Rather, He is praying for the very ones who crucified Him!

We can assume that both men heard this prayer. However, they're two different responses to such humility. While one abandons the same humility, the other mirrors it beautifully.

One of the criminals who were hanged railed at Him, saying, "Are you not the Christ? Save Yourself and us!" Can't you just hear the pseudo meekness and blatant pride found in this declaration? Yes, this man seeks for the right One to receive salvation. Only, he does not seek it because he sees his own sin. Rather, he feels the pangs of death and is seeking a way of escape. He doesn't desire to change his soul, he only desires to save it. He has become the very picture of Matt. 16:25, For whoever would save his life will lose it, but whoever loses his life for My sake will find it.

Oh but the other outlaw, that great outlaw, let us observe his own reaction. But the other rebuked him, saying, "Do you not fear God, since you are under the same sentence of condemnation? And we indeed justly, for we are receiving the due reward of our deeds; but this Man has done nothing wrong." And He said, "Jesus, remember me when You come into Your kingdom." While in the same exact boat as the other, he doesn't join in his taunts, but rebukes them! This outlaw sees his sin, his wretched filthiness is uncovered drastically in contrast to the bright purity of the Man on side of him. He knows that he has deserved death, and one much worse than that which was given to him. But instead of joining the crowd and the other robber, he truly sees Christ as He is, sees himself as he is, and makes the most humble request. "Jesus, remember me when You come into Your kingdom." Notice, he does not ask to join Jesus. He seems to feel, as Chappell writes, "that a single thought on his part will suffice him for time and eternity."

And how does Jesus reply to his humble prayer? "Truly, I say to you, today you will be with me in Paradise." Even though this man didn't ask for salvation from the consequences of his sin, even though he only asks for sheer remembrance, Christ, as He always does, gives us more than we ask and promises this great outlaw eternal life! And friend, Christ has promised us the same. Only, first we must do just as the outlaw does, see Christ as the perfect Lamb and sacrifice, observe our own destitute state apart from that sacrifice, and ask. That's it, just ask. Christ has promised that,"...everyone who asks receives, and the one who seeks finds, and to the one who knocks it will be opened."

We're right on side of Him. We all are receiving one of the most inhuman and painful deaths ever known by man. We deserve to be where we are. We're completely lost of hope and in need of someone. We must realize that that someone is the very One who hangs before us. When we see Him there, we look back and surprisingly see that we do not look at Him from the side anymore. Now we look up toward Him because we are no longer there with Him. He has taken our place and suffered death so that we may live. Though we are all outlaws deserving death, we are given a choice. We can either be the petty outlaw who seeks to save his own life but will only end up losing it in the end, or we can be the great outlaw who loses his life in the hope of rising again with His King. Which outlaw will you choose to be?