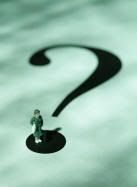 Being in doubt is perhaps one of the lowest points a Christian can ever find him or herself. Because our very life depends on the faith we've submitted to Jesus Christ, when we begin to doubt that faith, we begin a spiraling journey downward. It seems that when all is quiet, when everything is at a standstill, perhaps while trying to fall asleep, we find ourselves deep in thought. Everything we've attempted to escape comes rushing back to the frontal part of our brains and we are far too frightened to fall asleep. For one who's very being is dependent on faith, it's a frightening situation when our faith runs thin.
Why does this doubt strike so often for some? Personally, it feels to me that I'm constantly in doubt. In my case, I just happen to be a terribly analytical and doubting person, two characteristics that I think Christians should try not to fall prey to. I question people's intentions and analyze their actions and words to absolute scrutiny. I do the same to my faith in Christ. I doubt and doubt and analyze to a T whether I ever truly came to Christ. Its a wonder how anyone who is like myself can ever get any sleep at night! However, I've found some reasons as to why doubting can strike us so often.
Unrepentant sin in our hearts may be hindering us from true communion with God. If sin is blocking my communion with God, my doubt seems to flair as my faith begins to fall.

Lack of prayer, which is another form of communion with God, hinders that relationship. When prayer life is neglected, we loose connection with God. Just like in any relationship, it cannot stand if there is no communication between the two parties. If my prayer life is dwindled, so my faith will be also.

Lack of time spent in God's Word can also hinder our relationship with God. We can't have a lasting relationship with anyone if we don't know who they are.
There could be many more reasons why doubt arises in our hearts but these have been the three most common reasons in myself. To be low, to be really low, practically turning away from faith, it's a tough place to be. It's a dark place to be. For one, there's no joy at all. Time spent with God isn't enjoyable, time spent with fellow Christians is brutal, it simply is just the worse time for a follower of Christ. Only once, thank God, I have been this low and I can honestly say that it was the worst time of my life. Going to church was a drag, I hated it because all it did was further show me how outside of God's family I had become. What had plagued me so drastically?

James 1:6 says,

" ...for the one who doubts is like a wave of the sea that is driven and tossed by the wind."

In doubt, we may as well be a ship out at sea without a sail, able to be tossed to and fro. Doubting is dangerous and destructive to the Christian. Paul even tells us in Romans 14:23 that not only is it harmful, but it is

sin

. But what can we do to pull ourselves out of such a hole? First, we must realize that in and of ourselves, we can do nothing. Jesus promises us that with God, all things are possible, only, we must not depend on our own understanding but rather trust in the Lord, have faith in Him. No doubting, not questioning, simply having faith in the Lord. Secondly, we must talk to ourselves, yes, even if it makes us seem crazy. We must remind ourselves of the promises of God. But how do we know His promises if we don't spend time in His word?

"All that the Father gives Me will come to Me, and whoever comes to Me I will never cast out."

- John 6:37 - Be assured that if we come to Christ, He will never send us away.

"Everyone who calls on the name of the Lord will be saved."

- Rom. 10:13 - If we genuinely come to Him for salvation, He will save us.

"Therefore since we have been justified by faith, we have peace with God through our Lord Jesus Christ"

- Rom. 5:1 - We are promised of peace and salvation through our faith in Jesus Christ.

"In Him you also, when you heard the word of truth, the gospel of your salvation, and believed in Him, were sealed with the promised Holy Spirit.." -

Eph. 1:13 - Believing in Christ, our salvation is sealed and can never be taken away from us.

"The grass withers, the flower fades, but the word of our God will stand forever." -

Is. 40:8 - simply knowing God's promises is great, but the promise that His word is faithful and eternal reassures us of every promise bestowed upon us through our faith in Christ our Lord.
Doubting happens, faith is hard. The very fact that we cannot see what we believe is tough but this is the essence of faith. God designed salvation this way and we must be content with what He has graciously given us. His promises are endless and eternal. Turn away from doubt and return to joy in Christ. Everything may wither and fall away, but know that God has promised that His words will endure forever.